Is It Too Late for Body Contouring if I Want to Look Great By Summer?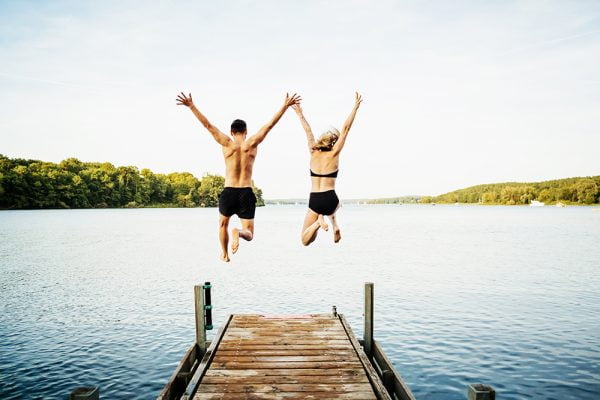 After a chilly, damp Appalachian winter, it seems that warm weather is finally here to stay. As we begin swapping our fleeces and jeans for tank tops, shorts, and swimsuits, many of us also start noticing lumps and bumps we'd rather not show off come summer.
If you have areas of persistent fat or loose skin, a healthy diet and exercise is often not enough to improve your shape and you may consider a procedure to help you along. But will you get to enjoy this summer? After all, many procedures require time for results to look their very best.
The good news is that it's not too late to look better this summer if you get started now. Below, I've outlined some of my most popular body contouring options, and how you might time your procedure to enjoy results while it's still swimsuit season.
Liposuction recovery can be relatively quick—about 1 week off work is the most my patients typically need. Within 3 to 4 weeks, you should be able to enjoy most normal activities.
Liposuction: You'll look & feel great in about 6 weeks
It is a rare few who don't have areas of unwanted fat, which is why liposuction is such a popular procedure. If wearing shorts or a swimsuit makes you feel self-conscious, it's one of the best ways to trim down specific areas and refine your overall body contours.
Liposuction recovery is usually relatively quick; about 1 week off work is the most my patients typically need. Within 3 to 4 weeks after your liposuction procedure, you should be able to resume most if not all of your normal activities, including exercise.
Most patients see appreciable improvements from liposuction within the first 6 weeks. While you may still have some residual swelling, your new shape will be very evident. Just remember to protect the small incision sites with the highest level of SPF available to prevent scars from darkening in the sun.
Male chest reduction: allow about one month to feel confident shirtless
If you are suffering from gynecomastia, male breast reduction surgery is the gold standard treatment. My Asheville male breast reduction patients are often surprised to learn that the surgery and recovery process can take as little as 3 to 4 weeks.
This is because liposuction can be used to treat most cases of gynecomastia, which means you'll have a relatively quick recovery process. Expect to feel sore for a few days, and take about 3 weeks off strenuous exercise, including swimming. After about one month, you should notice a much-improved chest shape, and scars will be healed. There's just one more rule: apply SPF to the inconspicuous healing scars before going outside bare-chested!
Tummy tuck: Book now to be ready by late July
Tummy tuck surgery can help reduce sagging skin on the abdomen, correct separated abdominal muscles, and give your stomach a dramatically smoother, slimmer look—it's no wonder it has a 97% satisfaction rating on RealSelf.
It is cutting it a bit close at this point, but you can still enjoy the better part of summer if you schedule your tummy tuck soon. Because tummy tuck involves suturing on multiple layers and larger incisions, you can expect to have at least 2 weeks of downtime during the initial healing phase.
After that, while you may return to a desk job, you won't be free to play at the pool or beach just yet: swimming is off-limits until you are cleared by your plastic surgeon. Once you are cleared for a dip in the pool, I still urge you to be cautious about physical activity to avoid straining your scars if you want them to heal inconspicuously.
One more detail to consider is that incision sites will be bright pink for several months after a tummy tuck. Plan to dress accordingly (most tummy tuck scars can be easily concealed by a swimsuit), and follow your plastic surgeon's instructions regarding activity and sun protection.
Body lifting is a complex surgery that sometimes needs to be performed in stages to ensure safety and many patients require up to 4 weeks of downtime. It's important not to rush the recovery process.
Body contouring after weight loss: Start planning to look great by next summer
Following significant weight loss, it's normal to have areas of loose sagging skin. An experienced plastic surgeon can remove extra skin and restore firmer, smoother body contours through body lift surgery. The positive impact that post-weight loss body contouring can have on a patient's comfort, self-confidence, and quality of life is remarkable—but this is one procedure that cannot be rushed.
Body lifting is a complex surgery that sometimes needs to be performed in stages to ensure safety and a great outcome. Many patients require up to 4 weeks before anything more strenuous than walking, driving, and light housework is allowed. Because incisions can be long—sometimes circling the entire body—excellent scar care is essential and it's important not to rush the recovery process
All this said, it's never too late to talk to a qualified plastic surgeon about your body lifting options. If you start the process now, you could be finished with surgery by fall and fully healed by next spring!
Interested in a body contouring procedure? We're here to help.
Whatever your goals are with body contouring, it's best to discuss your options with an experienced plastic surgeon. If you are in the Asheville area, I welcome you to contact me to schedule a personal consultation. Please call 828-210-9333 or send us a message online.
Call Dr. Conway today for your personal consultation
828.210.9333