Breast Lift
All About Breast Lift Surgery in Asheville, NC
Breast lift surgery, or mastopexy, lifts and reshapes sagging breasts into a more youthful position and improved contour. A breast lift gives a more aesthetically pleasing appearance to the breasts and can enhance overall body proportions, giving clothing a more flattering fit. Whether combined with breast implant surgery or performed using only natural tissue, a breast lift can help you restore your curves following pregnancy or weight loss, or give you a naturally youthful, appealing breast shape if your breasts have always appeared to droop.
Why get a breast lift (mastopexy)?
Restoring shape to sagging, asymmetrical breasts can make finding bras and swimsuits that fit comfortably and look good much easier. A breast lift can also improve the appearance of a large, stretched nipple/areola complex, as well as reposition the nipple/areola complex higher on the chest. While breast lift surgery is often touted as a post-pregnancy or "mommy makeover" procedure, women in all stages of life find it a rewarding procedure. Whatever your reasons are for wanting a better breast shape, Dr. Conway will help you choose the right approach to meet your goals.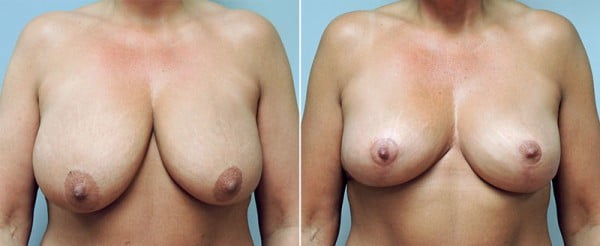 Patient Gallery » See Breast Lift results
Do I need a breast lift, breast augmentation, breast reduction, or a combination of procedures?
Breast lift with implants
Dr. Conway typically recommends a breast lift with implants for patients who would like larger, lifted breasts, or for those whose breasts have lost significant volume and there is not enough natural breast tissue to create an aesthetically pleasing shape. In such cases, Dr. Conway will help you choose implants that achieve the breast size you want—this can be larger than your current size, or you can choose smaller implants that restore the breast size you once had. Dr. Conway performs breast augmentation and lift during the same operation, with no additional incisions.
There is some confusion surrounding breast lift surgery and whether or not you will need implants. Some patients are under the impression that they will have to get breast implants as part of a breast lift, but may not want larger breasts. Others worry that a breast lift will not help them because there is "nothing left to lift" after breastfeeding or weight loss to achieve a nice breast shape. The truth is, breast implants are optional with a breast lift; whether implants will be needed depends on your individual goals and anatomy.
Breast lift alone
Breast implants are not necessary for an aesthetically pleasing breast lift for many of Dr. Conway's patients. If you are happy with your current breast size when wearing a supportive bra but would like to correct sagging, a breast lift alone will give you perkier breasts without increasing volume. Plenty of patients are happy with the results of a breast lift alone, as they enjoy a better breast shape without the extra cost and maintenance associated with breast implants.
Breast lift and reduction
In many ways, a breast lift and breast reduction are very similar procedures—the main difference is that both excess breast tissue and skin are removed during a reduction, while a breast lift will remove only excess skin and minimal breast tissue. In fact, Dr. Conway always performs a breast lift as part of breast reduction to create the most aesthetically pleasing shape to the smaller breasts.
Breast lift incisions
The incisions made during breast lift surgery depend on the amount of skin to be removed. Dr. Conway will use the incision pattern that produces the least amount of scarring possible while still achieving your desired improvements. In most cases, he uses one of the following patterns:
Peri-areolar incision. This involves a single incision around the outer edge of the areola, and is used to correct mild to moderate sagging.
Vertical or "lollipop" incision. A vertical incision from the bottom of the areola to the lower breast crease is made in addition to a peri-areolar incision. This pattern is used for more extensive breast lifts.
Inverted-T or "anchor" incision. This involves a peri-areolar incision, a vertical incision, and a third incision along the crease beneath the breast. Dr. Conway typically will use this incision pattern for a breast reduction and lift.
How much does breast lift surgery in Asheville cost?
Breast lift fees vary for each individual patient, based on the extent of the procedure, whether or not you are getting a breast lift with implants, and other factors. The costs for breast lift surgery also vary depending on extent of the procedure and the type of anesthesia (local or general). At your consultation, you will be given an all-inclusive fee quote that covers surgical fees, operating room fees, any applicable implant costs, and anesthesia fees; to receive your personalized quote, schedule your consultation at our Asheville office today. You may also read more about our financing options here.
Overview of the breast lift procedure
Breast lift surgery in Asheville is performed as an outpatient procedure, at our fully-accredited, on-site surgery center. Dr. Conway operates using general anesthesia, administered by a board certified anesthesiologist. Using the incision pattern discussed with you prior to surgery, Dr. Conway will remove excess skin and reshape the underlying breast tissue, placing permanent sutures in the tissue for support. The nipple and areola complex is then moved into a more forward-facing, centered position, and the size is reduced if necessary. If you are having a combination breast augmentation and lift procedure, Dr. Conway will insert your selected breast implants at the appropriate stage of surgery.
After your incisions are closed, they will be secured with dissolvable sutures and surgical tape, and you will be placed in a temporary bandage, which you will wear for 2 to 3 days following surgery.
Recovering from a breast lift
Each breast lift patient experiences recovery a little differently, depending on the extent of surgery, but most find it a reasonably smooth process:
You will be able to go home an hour or two after surgery.
While you will need to rest the first 2 days, you will be encouraged to get up and walk around the house periodically. Pain and discomfort are normal the first day or two, but most patients find pain medication makes this tolerable.
After 3 to 7 days, you will feel better, and Dr. Conway may clear you to return to a desk job and other light daily activities, given that you are no longer taking prescription pain medication.
Exercise can be gradually resumed after about 3 to 4 weeks for most patients.
Some breast swelling and asymmetry are normal during the initial weeks of recovery, but this will gradually improve. Most post-operative swelling subsides within 8 weeks following a breast lift. If you have breast implants, a normal "settling" process will take place as your body adjusts to the implants. Typically, patients are happy with their look and are ready to shop for new bras a couple of months following breast lift surgery, and results will continue to subtly improve for up to a year.
Dr. Conway will go over details of the recovery process and answer any specific questions you may have during your consultations before surgery.
Learn more about breast lift surgery
With a detail-oriented approach and over 20 years of experience in cosmetic plastic surgery, Asheville board certified plastic surgeon Dr. Donald R. Conway is here to answer your questions and help you determine the ideal procedure to meet your goals. If you are interested in your breast lift options or have questions for Dr. Conway, we invite you to schedule a personal consultation today by calling (828) 210-9333 or contacting our office online.
Call Dr. Conway today for your personal consultation
828.210.9333