Planning a Wedding in Asheville? Here's Where to Start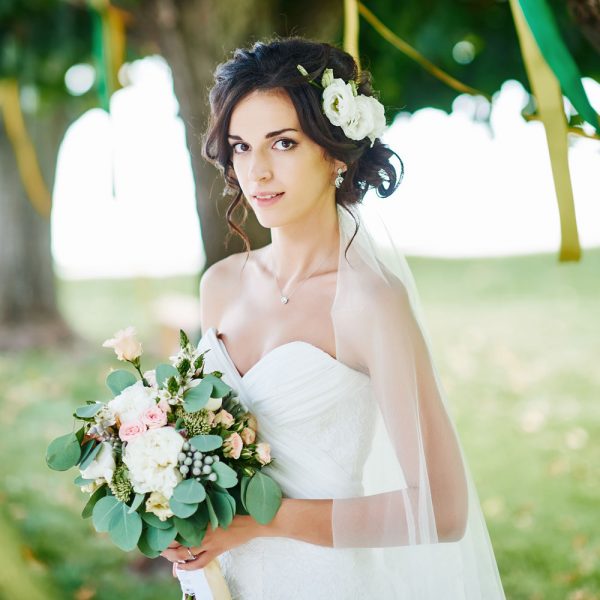 With our lively food and art scene, award-winning hotels, and a beautiful Blue Ridge Mountain backdrop, Asheville has become a top wedding destination. The number of couples from out of town tying the knot in our city grows every year—according to a recent story in the Asheville Citizen-Times, 2,750+ couples applied for marriage licenses in Buncombe County in 2016, and nearly 30% of those came from out of state (a percentage that's tripled since 2000).
We've noticed the uptick in bridal activity in our clinic too! Dr. Conway and our skin care staff frequently have the honor of helping brides get wedding-ready with treatments to refine their features, get glowing skin, and feel absolutely beautiful for their big day.
Having worked with so many brides (and their families and friends), we've got the inside scoop on the Asheville wedding services scene. Below, we share recommendations for florists, salons and other vendors in Asheville that brides rave about.
The Dress: Wildflower Bridal
Want to walk down the aisle in something truly unique? Wildflower Bridal specializes in wedding gown collections that are exclusive to the Asheville region—no cookie cutter designs here! Their gowns range in style from "boho chic" to sophisticated and romantic, and there is something to fit most brides' budgets. Every bride is treated to a one-on-one styling session with the knowledgeable, friendly staff—they even close the shop to others during your appointment to ensure zero interruptions.
Hair & Make-Up: Lola Salon
Whether you're the bride, mother of, or maid of honor, the ladies and gents at Lola Salon & Gallery have you covered. One of the top-rated salons in Asheville, Lola specializes in bridal hair and makeup for men and women of all ages and style preferences. Their talented stylists are happy to travel to your venue and offer a full range of hair and makeup options to create the look you want.
The Cake: Two Options to Suit Your Taste
Karen Donatelli Cake Designs
Culinary Institute of America trained pastry chef Karen Donatelli is a favorite among Asheville couples, creating artistic and delicious cakes and pastries for occasions simple and lavish. Wedding cakes are personalized to your preferences—decadent flavor options include raspberry chambord, chocolate amaretto, and tiramisu. Known for her exceptional service, Karen is accustomed to working with out-of-town couples—tastings take place at her downtown cafe.
Short Street Cakes
If you're instead looking for a wedding cake that isn't fussy and tastes homemade, check out Short Street Cakes. This West Asheville bakery is a go-to source for cakes and pies of all shapes, sizes and decorations for any occasion. Pick from creative flavors such as banana pudding and maple bacon apple, or stick to classics like "Ashevelvet" red velvet cake or vanilla. Those with special dietary needs will appreciate Short Street's menu of gluten-free, dairy-free and vegan cake options.
Photographers: Talented Artists to Capture Your Big Day
Amy Haynes Photography
Amy Haynes describes herself as a "documentary lifestyle photographer" and offers personalized wedding photography services to fit a variety of styles preferences and budgets. She is especially adept at finding the perfect combination of still-life, portraits and candid shots to perfectly capture the essence of a couple's wedding.
Sunday Grant Photography
Genuine, approachable, and a pleasure to work with, Sunday Grant has a gift for storytelling through photography. Weddings are her passion and her speciality, and she's superb at catching all the right moments, big and small, and stringing them together to create a wedding story that her clients cherish for a lifetime.
Altmix Photography
Although he calls Atlanta home, Matt Altmix is in high demand on the Asheville wedding scene for his outstanding work and his down-to-earth personality alike, and travels here to shoot weddings on a regular basis. From the moment you meet him, Matt feels like a friend. His philosophy is to tell a couple's unique story through "authentic beauty; not perfection, but trueness," and his exquisite photography does just that.
The Flowers: Picks to Please the Traditional and the Adventurous
Enchanted Florist
Founded in 1985, Enchanted Florist focuses exclusively on wedding and special occasion floral design. Owner and accredited floral designer Janet Frye, AIFD, works closely with clients to create floral arrangements that range from modern and edgy to classic and elegant.
Button Florist
For flowers that stand out from the crowd, try a bouquet of buttons! The Button Florist assembles customized bouquets using a variety of vintage and handmade buttons and recycled sweater felt "leaves." Her creations are super cute, never wilt, and are a great option for brides with allergies as well as those who want a fresh twist on floral arrangements.
The Venue: Too Many Great Options to Count
There are literally hundreds of outstanding wedding venues around Asheville! In addition to classic venues like the Biltmore Estate, consider getting married at a gorgeous local farm, a craft brewery, or even among rows of books at the Battery Park Book Exchange.
The ideal wedding spot will be dramatically different from couple to couple, and it's impossible for us to pick just one to recommend. Our suggestion? Head over to Here Comes the Guide. They have a large directory of North Carolina mountain wedding venues, and you can narrow your search by budget, number of guests, setting type and other parameters.
Start getting ready for your Asheville wedding
While our picks may be a great match for your tastes, these are just a few of many excellent wedding vendors, and it's worth the time to explore your options. The Asheville Convention & Visitors Bureau has an excellent Asheville wedding guide on its website.

And, when you're ready to perfect your wedding look, we're here to help.
Contact us anytime
to request a personal consultation with board certified plastic surgeon Dr. Donald Conway. He'll be glad to go over both surgical and non-surgical options to improve your skin, enhance your curves, or refine your appearance so you can you look and feel fabulous on your wedding day.
Call Dr. Conway today for your personal consultation
828.210.9333