Asheville Breast Implants
Options to fit your look & lifestyle
Choosing your breast implants can an exciting, if sometimes daunting, task, with so many options available. Dr. Conway is experienced in performing breast augmentation using saline and silicone implants, as well as the latest generation form-stable silicone implants. All can offer a very natural-looking augmentation; what matters is what option will best suit your needs.
Quite often, there is more than one "good" option for a patient, so your consultation will include a sizing session where you can evaluate different implant shapes and sizes and try different implant volumes with a special bra to help you choose the look you like best. Our nurse and patient coordinator will be happy to give you feedback "woman-to-woman" if you like, and you may bring a friend or family member with you for support.
Silicone vs. Saline: Comparing Options
Did you know that most people cannot tell whether a breast augmentation patient has saline and silicone implants just by looking? That's because all types of FDA approved breast implants can achieve beautiful results. Here is some basic information to know about each.

Saline implants
Composed of a silicone shell filled with sterile saline solution, saline implants have been used safely and successfully for decades. Since they can be filled to a precise volume, saline can be a great option for achieving very close symmetry. While they can feel slightly heavier and firmer than silicone, saline implants can achieve a beautiful breast augmentation for patients with adequate natural breast tissue to cover the implant, with smaller incisions as well. In the rare event of a rupture, the saline solution is safely absorbed by the body.
Silicone gel implants
Gel implants feel similar to real breast tissue and have a natural "give" despite their strength. As round implants, these are a popular choice for women desiring a fuller upper portion of the breast. Silicone gel implants come in a variety of sizes, profiles (which determines how far the implant projects from the chest), and base widths to fit nearly any body.
Today's silicone implants have a very strong outer shell; ruptures are rare, and serious complications resulting from rupture are very rare. Silicone implants come pre-filled, and may require a slightly longer incision to insert compared to saline. However, silicone implants are lighter and softer, and have a much lower incidence of visible rippling.
Form-stable silicone (gummy bear implants)
Commonly referred to as "gummy bear" implants, form-stable silicone implants have a teardrop shape that mimics the natural slope of a breast. While still pliable, form-stable implants will hold their shape in any position for a consistent, natural look. Like silicone gel implants, they come pre-filled in a wide range of sizes, shapes, and profiles. Due to their slightly firmer consistency, form-stable implants require an inframammary incision to insert–the preferred incision location for many patients.
IDEAL Implants: A New Option for a Natural Look & Feel
Many women prefer the natural look and feel of silicone, but desire the peace of mind of a saline filling. If you fall into this category, you may consider IDEAL Implants. Called "structured implants," IDEAL implants are filled with saline, but have a unique, nested shell structure that provides the aesthetic benefits of a silicone implant.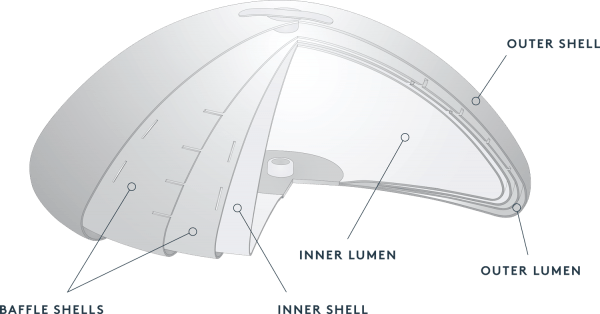 For many of Dr. Conway's patients, IDEAL implants offer the "best of both worlds" in terms of safety, durability, and aesthetic appeal:
Structured shell virtually eliminates visible rippling
Saline filling can be adjusted to achieve optimal symmetry
Smaller incisions are required compared to many silicone implants
Studies show very low rupture rates (1.8% after 5 years)
Download our patient brochure to learn more about IDEAL implants »
How will my breast implants be placed?
Dr. Conway will place breast implants either beneath the breast tissue and on top of the pectoral muscle (subglandular placement), or beneath both the breast tissue and pectoral muscle (submuscular or partial-submuscular placement). Factors determining breast implant placement include your current breast size, the degree of enlargement you desire, and implant type. Dr. Conway will go over the most appropriate placement option for you during your consultation.
Call Dr. Conway today for your personal consultation
828.210.9333